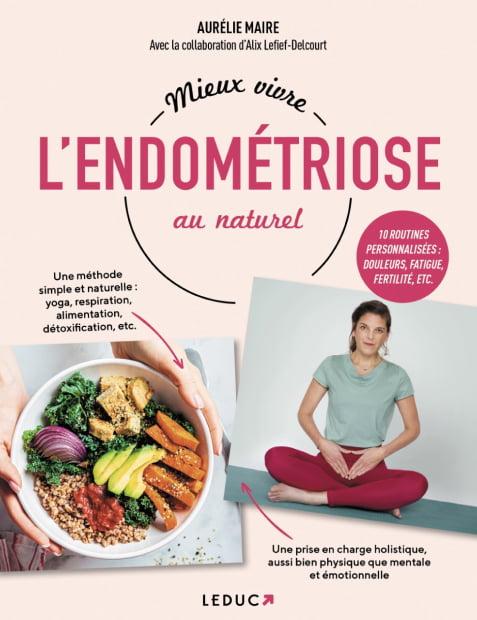 Atelier en ligne de 2 heures offert
Détails à venir
Pré-commandez le livre et nous vous invitons à un atelier gratuit de 2 heures : pratique de yoga, échange sur les soins naturels dédiés pour l'endométriose, réponses à toutes vos questions par Aurélie.
Comment faire ?
Pré-commandez le livre
Faites une copie d'écran de la commande
Envoyez la photo ou copie d'écran à ce mail
Vous recevrez prochainement les informations
La douce et bienveillante Aurélie nous accompagne pendant toute la formation. Elle reste à notre disposition pour tous nos doutes et interrogations. J'ai aimé pouvoir apprendre à poser un cadre également avec bienveillance pour collaborer avec d'autres professionnels pour accompagner mes élèves souffrant d'endométriose.
The gentle and caring Aurélie accompanies us throughout the training, from the theoretical part to the case studies. She remains at our disposal for all our doubts and questions. I appreciate that we learned to set a framework and boundaries for what we can offer as a yoga teacher and how to partner with health professionals to offer the best care for women affected by endometriosis.
J'ai déjà mis plusieurs outils en place dans mes cours collectifs quand il y a des femmes atteinte d'endométriose/adénomyose pour qu'elles se sentent le plus à l'aise possible et qu'elles profitent pleinement de leur séance de yoga. J'ai aimé apprendre à savoir posé un cadre et des limites dans ce que nous pouvons proposer en tant que professeur de yoga tout en trouvant notre propre voix. La douce et bienveillante Aurélie nous accompagne pendant toute la formation, de la partie théorique aux études de cas. Elle reste à notre disposition pour tous nos doutes et interrogations.
This training is perfect for yourself but also for others, Aurélie is of a rare benevolence and a beautiful sweetness. It's also a place to make beautiful exchanges, to feel less alone, and to create lasting connections.
Thank you Aurélie for all the knowledge transmitted and this opportunity to feel legitimate as a woman first, and then in the transmission. Thank you to this incredible group for the beautiful energies encountered. A flood of benevolence, energy, knowledge and humility!
I really liked this training, Aurélie's kindness, her listening skills and especially her way of transmitting her knowledge allowed me to better understand the subject, to deepen my knowledge and to bring new tools to women who need them. I thank Aurélie and highly recommend her, because I find her extremely professional and with a big heart.
Great training, no regrets! It allowed me to get out of my comfort zone and take action because I suffer from impostor syndrome. Thank you all because it's this emulsion that does it all!
Aurélie offers a rich, dense and complete training to understand all the benefits of yoga in the global management of endometriosis. The words knowledge, exchange and benevolence resonate strongly. As a physiotherapist with a passion for yoga, I loved this course which brought together pain management, movement and the philosophy of yoga. Thank you Aurélie for sharing all this with so much heart!
I would like to thank Aurélie from the bottom of my heart for the quality of her teaching, the tools she offers us, her professionalism and the energy she puts into it. I was cradled throughout this training in a caring, listening, gentle and enveloping and cocooning atmosphere. I am delighted to have been trained by her.
A complete and enriching training proposed by Aurélie. I am very happy with the way I am doing things. The yoga tools we see allow us to propose concrete postures and adaptations to our students so that they can come to class safely. I have already implemented several tools in my group classes when there are women with endometriosis/adenomyosis so that they feel as comfortable as possible and enjoy their yoga session.